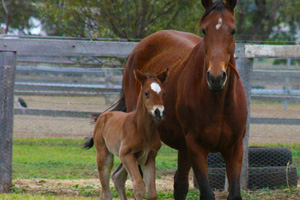 Mother Nature has taught us that life is valuable and this is no different in an equine's perspective.
We believe that life begins before the foal graces the world and giving your mare every opportunity of producing an athlete is just the start.
We offer a number of thoroughbred breeding services and care and diligence ensure every opportunity is given of 'your little things growing big':
Mare & foal agistment
Mare matching & mating
Walk-on & walk-out breeding services
Pre & post foaling care with dedicated 24 hour around the clock care for foaling down mares with knowledgeable staff and veterinarians on hand 24/7. Service includes foaling down, foal IGG testing, daily monitoring of foal temperature, owner progress reports and stabling until the mare and foal are ready for a fully monitored paddock.
We care from the ground up and the combination of knowledge, modern facilities, perseverance and diligence makes Clear Mountain Fairview the only choice for your invaluable thoroughbred breeding stock.