Racehorse education is the cornerstone of developing a promising young thoroughbred into an athlete, fulfilling its maximum potential on the track. Clear Mountain Fairview provides pre-training services to Australia's leading thoroughbred trainers and owners as well as respected and successful overseas participants. Clear Mountain Fairview is recognised as a leader in the Queensland Racing Industry. Racehorse training is too important to trust to just anyone.
Why choose Clear Mountain Fairview for pre-training?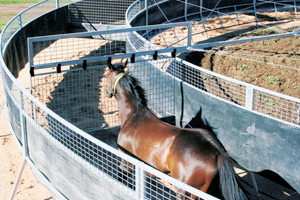 We work with the trainer and/or owner(s) to achieve your pre-training goals and enable a head start when the horse reaches the track. With a superior pre-training facility and a team of veteran equine educators caring for your horse, we can help develop the skills and talents of your equine athlete.
Our pre-training racehorse facilities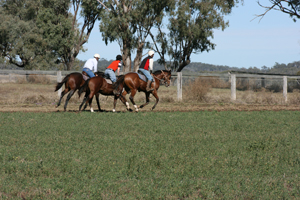 In addition to our Queensland-based thoroughbred spelling, breeding, breaking and agistment facilities, set upon 990 acres of lush green irrigated pastureland, our pre-training facilities include:
Dedicated team of experienced staff specialising in racehorse training and care
Educated and pre-trained under the careful stud manager Mick Frappell
1500 metre training track
4-horse barriers
Round yards
Stabling
Horse exercise machine
Horse Gym (treadmill)
Our pre-training facilities assist in building a progressive and solid foundation for any equine athlete before hitting the track.
Pre-training the next star of the track
A combination of expert knowledge, modern facilities, perseverance, and diligence makes Clear Mountain Fairview the only choice when it comes to pre-training your racehorse. Give your thoroughbred every opportunity to become an elite equine athlete.