"I love Queensland -bred horses. The Darling Downs historically has been a fantastic breeding ground for premier horses. I think they're the best because they're bred in sunshine, which means your grains are stronger and better quality."
-Gai Waterhouse
Clear Mountain Fairview is an exceptional thoroughbred stud farm in the heart of Queensland's premier breeding district, the Darling Downs. Located west of Brisbane, the Darling Downs boasts Queensland's lush, fertile growing basin, perfect for optimum equine breeding and raising.
About our stud farm
Blessed with exceptional ground water, the 990 acre thoroughbred horse stud has an ideal mix of improved pasture and irrigated paddocks; giving valuable thoroughbreds a holiday oasis. Our racehorse spelling and breeding services draws thoroughbreds from across the country, thanks to superior facilities and experienced staff.
Clear Mountain Fairview's agricultural team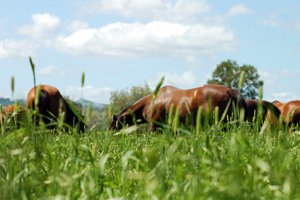 Australia's never-ending battle with drought, and flooding rain is one of the big challenges for the thoroughbred industry. To ensure all of our pastures offer lush grazing all year round, Clear Mountain Fairview boasts a team of agriculturalists to work alongside our stud manager and team.
Our irrigated cultivation ensures green pastures for all aspects of thoroughbreds, from racehorse spellers to newly born foals. With abundant water and our agricultural team, we ensure your livestock are given every opportunity to develop into an elite athlete just by the way they spend their time in the paddock.
Carefully chosen location
The unique combination of the low humidity, complemented by the elements in the soil and water as well as the cooler climate throughout the year produces well developed and relaxed horses. Located at Greenmount, just 25 kilometres from Toowoomba (on the Warwick side), we have very easy access to Brisbane, Gold Coast and Sydney highways.
First- class expertise and facilities
Clear Mountain Fairview offers first rate facilities for all stages of a thoroughbred's life. On our 990 acres you'll find:
1500 metre training track (learn more about our racehorse pre-training services)
4-horse barriers
Racing tie-up stalls
Excellent round yards (learn more about our horse breaking services)
Extensive Stabling stabling facilities
Safe loading facilities for transportation (especially for the young foals, unsure of the world around).
State- of -the -art exercise equipment including a HorseGym Treadmill
Lush irrigated pastures
Vet services, farrier services, diet management and full foal education programs.
Our Queensland stud farm offers the full range of thoroughbred services to owners, trainers and breeders. Simply get in touch to find out how we can help you raise your precious racehorse.
Learn more about our service
Your inspection of the stallion roster or our superb facilities is welcomed at all times. Please contact stud manager Michael Frappell today for more information or to arrange an appointment to discuss your needs.
Looking for a state of the art stud farm near Brisbane?