Education of a young thoroughbred is the cornerstone of developing a promising thoroughbred into an athlete, fulfilling its maximum potential. Who you choose for breaking a horse will have a career long impact on performance and temperament. Clear Mountain Fairview provides breaking-in services to Australia's leading thoroughbred trainers and owners as well as respected and successful overseas participants.
Why choose Clear Mountain stud to break a horse?
We have an extremely high standard when it comes to educating equine athletes and understand what is needed for their journey on the racetrack. Leading our team is Mick Frappell. Mick brings twenty five years' experience in equine breeding and care, as well as hands on racing industry insight to our breaking in process.
Clear Mountain Fairview facilities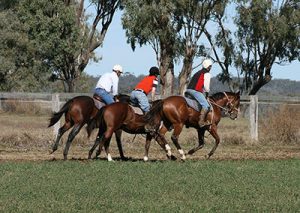 In addition to horse breaking, we boast a 990-acre lush property in the Darling Downs with specialised facilities for thoroughbred breeding, spelling and pre-training. Here our team have developed some of Queensland's top equine athletes.
Our superb facilities which include a 1500 metre training track
4-horse barriers
Excellent round yards
Stabling
Horse exercise machine builds a progressive and solid foundation for any equine participant
Access to Clifford Park Training Centre (Toowoomba Turf Club)
How long does it take to break in a horse?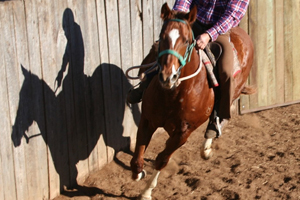 Breaking-in takes approximately four (4) weeks depending on the horse's receptive levels to learning. We offer saddle breaking and also halter breaking for young foals as part of our weaning services
However, by the time your horse has finished being broken-in, they will be able to complete the following:
Work (trot & canter) in a race pad on our 1500 metre training track
Work in a team of horses on our track
Jump out (at a trot/canter) out of our 4-horse barriers
Load onto a horse float
Tie up
The progress of your breaker is communicated throughout the process and a report is also completed at the conclusion of the program.
A combination of knowledge, modern facilities, perseverance, and diligence makes Clear Mountain Fairview the only choice when it comes to breaking a horse in Queensland. We create elite athletes by providing only the best care, from mare matching, to the winner's post.
Trust Clear Mountain Fairview to break in your horse