Against the backdrop of the lush Darling Downs, Queensland's most reputable horse spelling facility is under two hours from Brisbane and the Gold Coast. Clear Mountain Fairview offers racehorse spelling in our purpose built, safe and spacious paddocks. Each of our post and rail horse spelling paddocks boasts individual shelters and long-established flora. Our team of agriculturalist maintain high quality grazing pastures and all horses receive a daily nutritional programme from our Stud Manager, Mick Frappell.
Racehorse spelling care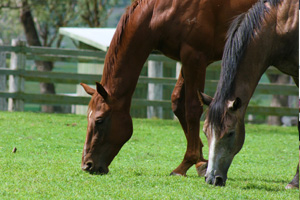 Your racehorse will be treated to a safe and comfortable spelling period. Our first priority is always the wellbeing of our horses. Your horse will receive the individual attention and care that we provide all our equine guests. We've developed a reputation as an industry leader in racehorse spelling, here's why:
Each speller receives individual attention and care
Our colt spelling services mean individual spelling for mischievous young males
A dedicated farrier ensures regular trimming and corrective shoeing services.
An on-call veterinarian provides 24 hour/7 day a week support
Extended racehorse spelling for injury and post-operative care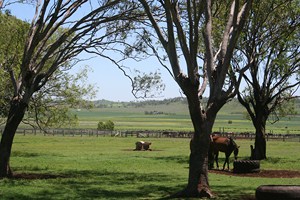 We guarantee your convalescent horse will receive care and kindness while they recuperate from injury or surgery. If your thoroughbred has sustained a tendon injury, our team can offer specialised, and individualised care to get through this and back to the track. We consult with your vet, and work with our on-call vet to ensure your spelled thoroughbred receives the right medical treatment.
Our horse spelling farm gives Queensland trainers and owners peace of mind, knowing their beloved horse is not only receiving the best possible medical care, but also the love that they need.
Clear Mountain Fairview is also equipped with top-class exercise facilities to assist with gentle rehabilitation to get your racehorse back to the track as quickly, and carefully as possible.
How long should I spell my thoroughbred?
Horse spelling is generally 6-8 weeks. You may also require long term spelling for injured racehorses to undergo rehabilitation. In some cases, younger horses, early in their career may require shorter spelling periods, usually 3-4 weeks between their education program. Clear Mountain Fairview will work with you to decide on short, standard or long-term spelling requirements.
All high-performance racehorses need spelling
While the idea of sending your thoroughbred off on holiday doesn't thrill most owners, any quality trainer will tell you a spelled racehorse is a high-performance racehorse. Spelling is critical for your thoroughbred's career. At Clear Mountain Fairview, we understand that our spelling paddocks are not just a luxury retreat for your thoroughbred, but an essential part of their ongoing training. We provide the correct care needed to keep your spelled racehorse in top form, now and throughout their career.
Superior horse spelling in Queensland
Get in touch now to learn more about our professional horse spelling services – every aspect of your thoroughbred's routine builds the champion. Let us take care of this crucial part.