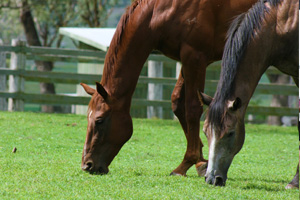 Clear Mountain Fairview offers spelling for racehorses in our purpose built paddocks.
Our post and rail spelling paddocks are exceptionally safe and spacious with large individual shelters and long established flora.
In addition to access to extensive pasture, horses receive a daily nutritional programme designed and overseen by stud manager Mick Frappell.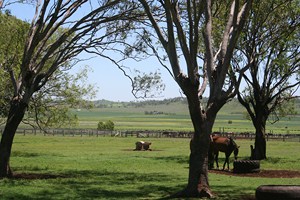 An on call veterinarian provides 24 hour/7 day a week support and a dedicated farrier ensures regular trimming and corrective shoeing services.
The facilities have the reputation of being the best on offer in the state with individual care taken with each speller.
We also have the ability to accommodate spellers individually, which is ideal for precocious colts.
Care and kindness is also shown when horses arrive for post operative recuperation. We cater for the horse's needs, as per the vet's instructions.
Our various sized paddocks allow us to place the horse where they are best suited for post operative recovery.
With our exceptional horse exercising machine, we are able to assist in the equine's development in regaining their future as an athlete.
Ask any horse that has agisted or spelled at Clear Mountain Fairview and they will insist your athlete shouldn't miss the experience.
Graduates
 Photos courtesy of Trackside Photography.